In April, United announced it would be making one of the most substantial changes to MileagePlus in the program's history: the shift to dynamic award pricing.
Like Delta, United has eliminated its award chart for flights departing on Nov. 15, 2019, or after. Bookings for travel prior to this date still price out at the old rates, while the number of miles required for travel after Nov. 15 will vary depending on several factors, including demand.
What does this mean? Let's dive in and look at the details.
Close-in booking fees vs. award pricing
United has touted the elimination of close-in booking fees when dynamic pricing goes fully into effect. While it's not entirely certain whether this will have an impact on award pricing, Delta set a pretty strong precedent by charging more miles for close-in bookings.
It remains to be seen whether United will follow Delta's lead or whether the airline will use this as an opportunity to unload last-minute unsold seats at fire-sale prices. There's certainly a business case to be made either way.
Some awards are pricing dynamically lower
Not all award pricing has gone up. For example, we recently found flights from Seattle to San Francisco pricing at only 6,500 miles one-way. The same award previously priced out at 10,000 miles each way.
Is that a good deal? It's a qualified "maybe." Award pricing varies and seems to closely track the cash cost of a flight, which in this case is $69 each way. So the value isn't great here.
Some pricing is unchanged
Some award pricing hasn't changed. Pricing has remained in line with the old award charts on some itineraries entirely operated by partners. However, unless you live in an international gateway city, it's hard to find itineraries that completely avoid segments on United.
Is partner award pricing likely to remain the same? It's hard to say. United has left the door open to potential future price changes. With the removal of award charts, there may be nothing stopping them from implementing dynamic pricing on partner itineraries. If you can book an itinerary entirely on United's partners and lock in today's pricing, it's probably a good idea.
Partners + United flights = more expensive
Mixing United and partner flights on an itinerary can make it a lot more expensive. Prior to the implementation of dynamic award pricing, a one-way saver award flight between North America and Europe cost 30,000 miles in economy class.
Now it can cost 70,000 miles. For example, we found a mixed United/partner itinerary between Seattle and Minsk, Belarus, for 70,000 miles each way in economy class. If you value United miles at 1.3 cents per point, as NerdWallet does, that's like paying $910 one way.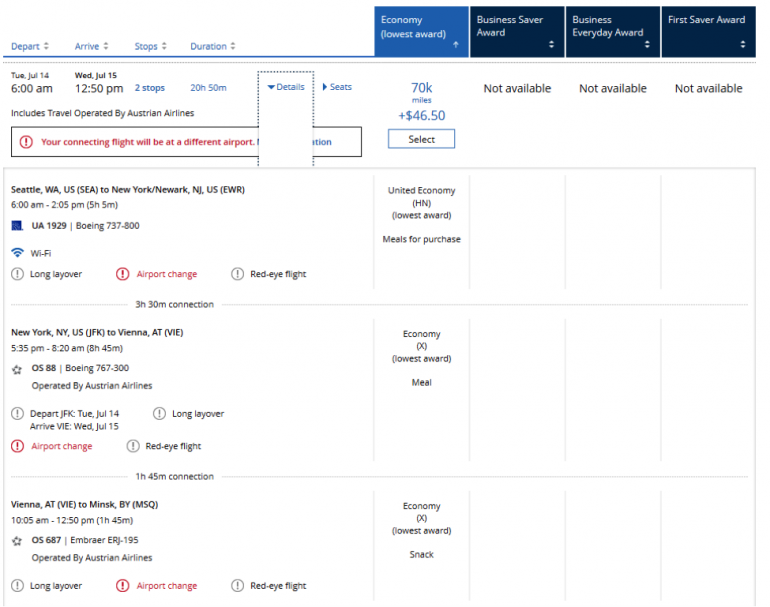 For now, itineraries like these aren't pricing dynamically. They are showing up at fixed (but more expensive) price based on the region in which you're traveling.
Some dynamic pricing is higher
Dynamic pricing is in full effect and highly variable on United's own flights. From Seattle, it was very challenging to find long-haul domestic flights at the 12,500 mile level. As with short-haul flights to San Francisco, long-haul flights are now pricing out dynamically.
Purchased in advance, this is usually a $150 to $200 paid fare one way but can cost as much as 40,000 miles each way — the same number it used to take to fly all the way to Australia.
The bottom line
There's no sugarcoating it: This is, in effect, a massive devaluation by United. Prices have more than doubled overnight in many cases. Sure, you can burn your miles at lower award levels for cheap, short-haul economy class flights. But that has almost never been an optimal use of miles anyway.
If you have United miles, use your miles at the "old" award levels wherever possible, because you may never see these prices again.
How to Maximize Your Rewards