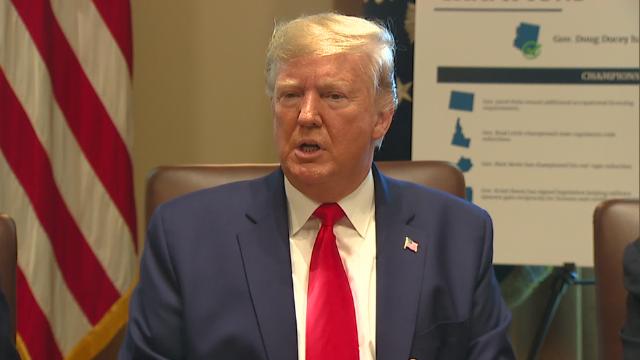 Our latest CNN poll conducted by SSRS finds that 50% of all American adults and 51% of registered voters want President Donald Trump impeached and removed from office. That compares with 43% of adults and 44% of voters who don't want this to happen.
This is the first time that a majority of voters in a CNN poll have said they want Trump impeached and removed from office. It's also the first time a clear plurality of adults want him impeached and removed.
Indeed, it's the trend line on the question of impeaching and removing Trump that is interesting.
CNN has done two polls, including this one, about Trump being impeached and removed from office since House Speaker Nancy Pelosi announced an impeachment inquiry last month. In an average of those two polls, 49% of Americans said they wanted Trump impeached and removed from office. Just 44% said they didn't want that to happen.
Before the inquiry started, we did six polls over the course of 2018 and 2019 that asked about impeaching and removing Trump from office. Over those six polls, the spread was 41% for impeaching and removing Trump and 54% against it.
It's pretty clear that some combination of Trump's actions regarding Ukraine or the Democrats pushing for an impeachment inquiry has moved the numbers.