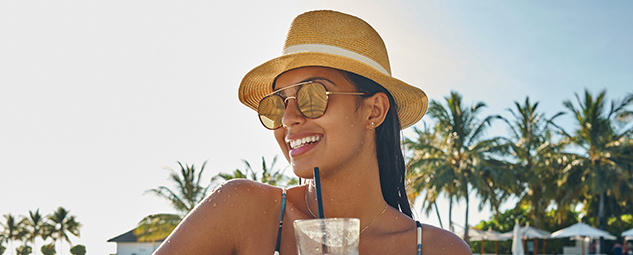 The Marriott Bonvoy program continues to evolve — most recently with the launch of the Marriott Bonvoy Bold Credit Card, issued by Chase. The card has a $0 annual fee and offers the following sign-up bonus: Earn 50,000 Bonus Points after you spend $2,000 on purchases in the first 3 months from account opening.
Hotel reward programs can be confusing, so it's hard to know what 50,000 Bonvoy points will really get you. We rounded up 10 ways to redeem 50,000 Bonvoy points, ranging from multiweek stays at budget hotels to bucket-list-completing nights at high-end properties.
The "best use" of any points will depend on your travel goals and preferences, so use these ideas as inspirations for your travels — or to help decide whether the Marriott Bonvoy Bold Credit Card is right for you.
We used the "off-peak" redemption rates on Marriott's award chart, which are (as of June 14, 2019) still "coming soon." These rates can stretch 50,000 points much further, especially at the lower-end properties when combined with Marriott's 5th free night on award bookings. Note that Marriott's "soon" could take effect at any point. We used this page to search for properties, which lets you filter by award category, region and hotel brand. It's a great place to start your own search.
To determine how much a room would cost if paying cash, we used Google to search for a weekday rate in what we considered "off-season." Cash rates were current when we checked but, of course, are subject to change.
NerdWallet values Bonvoy points at 0.8 cents apiece, so any booking that nets over 1 cent per point (as these all do) is well worth it. Here are our picks.
Category 1 properties
12 nights at the AC Hotel in Burgos, Spain
This one goes out to the true cheapskates.
Marriott's Category 1 properties cost only 5,000 points per night for off-peak redemptions. So 50,000 points nets 10 nights, plus two free nights (one for every four consecutively booked days), yielding an almost two-week stay.
Marriott's Category 1 properties are generally simple, no frills accommodations. That's especially true in North America. But a few overseas Category 1 properties have some real character, including the AC Hotel in the center of Burgos, a medium-sized city in northern Spain.
Twelve off-peak nights in January cost $1,009 ($84 per night) in our search, so at 50,000 points, this award redemption nets 2 cents per point — well above our 0.8 cent valuation. While most of us aren't planning a trip to Burgos, Spain, anytime soon, this demonstrates just how far Bonvoy points can go with a little creativity.
12 nights at the Fairfield Inn Marriott — Albuquerque
This booking proves that you don't have to leave the country to get a lot of free nights. Many of Marriott's lower-tier brands like Fairfield Inn have Category 1 properties scattered across North America.
Twelve off-peak nights at this Fairfield Inn cost $1,244 ($103 per night), so booking this with 50,000 points yields a spectacular value of 2.5 cents per point.
Category 2 properties
6 nights at the Aloft Bangkok Sukhumvit
For the budget-conscious but not quite budget-obsessed, Marriott's Category 2 properties run 10,000 points per night (off-peak). While still bare-bones, many of these hotels are located in tourist hot spots such as the most-visited city in the world: Bangkok.
For a cash booking, six days in April (the hot season) at the Aloft Bangkok Sukhhumvit came to $846 in our search. So using 50,000 points to book five nights (plus one bonus free night for award bookings) yields a very good value of 1.7 cents per point.
6 nights at the JW Marriott Zhengzhou
Marriott's search tool includes a nifty filter on "Luxury" properties. Combined with a filter on award categories, this reveals the highest-end properties that can be booked with the fewest points. Six of the eight Category 2 luxury hotels are found in Asia, including the JW Marriott in Zhengzhou, China.
Cash rates ran $146 per night in our search, so $876 total. Using 50,000 points instead makes them worth 1.8 cents apiece — not bad for nearly a week in "luxury."
Category 3 property
3 nights at the Delta Hotels London Armouries, Ontario, Canada
This may not be the best-value redemption on our list, but it's certainly the most unique. Located in London, Ontario, in the old armory (or "armoury," locally), this boutique hotel is as close to staying in a castle as you're likely to find for 15,000 points a night.
Off-peak winter rooms were $158 per night. Since 50,000 points can only book three nights, this redemption misses out on the fifth-night-free bonus. A payoff of 1.1 cents per point might not stand out compared to these other options, but it's still a solid value.
Category 4 properties
2 nights at the Aloft Manhattan Downtown — Financial District
New York City hotels are notoriously expensive and can therefore yield particularly fruitful award redemptions. Marriott's lowest-tiered properties in the city still ring in at 20,000 points per night for off-peak stays, so this redemption will leave 10,000 of the 50,000 points in your account.
Aloft Hotels skew young, stylish and budget-friendly. Despite being toward the bottom tier of Marriott properties in Manhattan, rooms at Aloft Manhattan Downtown — Financial District in the dead of winter still ran $570 per night in our search. Booking two reward nights instead gives a value of 2.3 cents per point, but … were you really going to pay that much cash?
2 nights at the JW Marriott Houston by the Galleria
Mid-tier properties like these fall into two general categories: low-end brands in expensive cities (like the Aloft above) or higher-end hotels in cheaper cities. Here's an example of the latter, and another fruitful result of the "luxury" filter.
Category 6 properties
1 night at the Ritz-Carlton, Herzliya, Israel
We're into the real high-roller properties now.
Although it's positioned in a higher award category than the previous two hotels, our search showed lower nightly rates ($425 per night), which translates to 1.1 cents per point.
1 night at the Palace Hotel, San Francisco
The unapologetically old-timey Palace Hotel offers high-ceilinged rooms and other Gilded Age touches. The real attraction is the "Garden Court," an enormous atrium and dining room that feels like it's straight out of a movie — a very expensive movie.
We can always count on San Francisco for stratospherically high hotel rates. Ready for this? A single night at the Palace in January 2020 is currently going for $837 per night, making the 40,000 points needed to book it a "bargain" at 2.1 cents per point.
1 night at the Ritz-Carlton, Vienna
Another high-end property in a high-end city, the Ritz-Carlton in Vienna offers a rooftop bar overlooking the city.
Compared to the Palace above, rooms here are a bargain at a mere $622 per night. The property is in the same reward category, so 40,000 points will get you a one-night stay at 1.6 cents per point.
The bottom line
The "best use" of 50,000 Marriott Bonvoy points depends on dozens of variables, most of them personal. But this list can offer a sense of what's possible, from 12 days in Spain to a single luxurious night in San Francisco or Vienna.
In the real world, you probably won't get as much value as these optimized choices. But since the Marriott Bonvoy Bold Credit Card sports a $0 annual fee, almost any redemption at all makes the sign-up bonus "worth it."